Hard Cover, eBook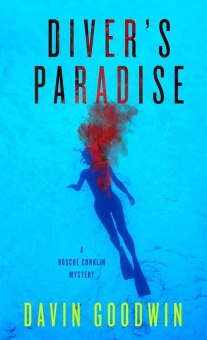 A Roscoe Conklin Mystery
Published by Oceanview Publishing

"Impressive Debut and Series Launch!" -- Publisher's Weekly

The small, remote island of Bonaire is an exceptional place to retire, unwind, or relax.

Unless you're Roscoe Conklin.

And people close to you keep turning up dead.....

"A fun and heady combination of suspense and intrigue that appeals to the underdog in us all. It definitely delivers what readers crave."
- Steve Berry, New York Times and #1 Internationally Bestselling Author

Reviews
"Cops don't retire to laid-back Bonaire to be targeted for murder, but Roscoe Conklin is the exception. With the grisly murder of his former partner back in the States, Conklin finds himself tangled in a web of lies, deceit, killings and mistaken identity. And all he wants to do is play his banjo on the porch. Tightly written, Goodwin's debut novel captures the relaxed, easy going life in Bonaire, then shatters it with explosive energy. You won't put this book down till the last page!"

- Don Bruns, USA TODAY Best Selling Author, http://www.donbrunsbooks.com/


"Make room at the table with Child, Grisham, and Coben. Davin Goodwin's debut novel Diver's Paradise is a stay-up-all-night page-turner in the best traditions of the American thriller."
- Renee James, author of Seven Suspects

"A dazzling debut thriller that grabs you by the throat with spell-binding action from the first page – and never slows down. Davin Goodwin has created a fascinating character in Roscoe Conklin, a retired cop living in an island paradise who can't escape the deadly secrets from his past. The bodies soon begin piling up, along with one stunning plot twist after another. Highly recommended!"
- R.G. Belsky, author of the award-winning Clare Carlson mystery series