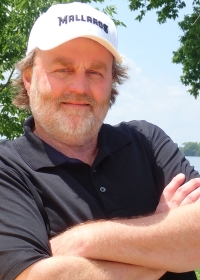 Included in Buzzfeed's "15 Thrillers And Mysteries Worth Picking Up This Spring" for the Spring/Summer of 2022!

"A rich cast of characters and an intriguing plot guarantee an exciting trip you'll long remember. ​​​​​​"
- Shawn Wilson, author of Relentless.
Davin Goodwin
My family members have always been epic storytellers. I regularly wrote short stories in high school and college and, later in life, freelanced several articles for trade and industry publications. For years, the idea of writing a novel bounced around in the back of my mind, but never found its way out of the darkness.
My wife, Leslie (Double L), and I have visited the island of Bonaire nearly 30 times over the past 20 years, many of those trips for extended periods. The island is a perfect setting for the style of novel I wanted to write. Yes, the book would be a murder mystery, but I needed a laid-back, slightly exotic setting. And I wanted the book to partially center around scuba diving, an activity Les and I enjoy together as often as possible.
During the Spring of 2010, with mild coaxing from friends and family, the concept of Diver's Paradise came to fruition. However, after close to a year of writing, I gave up, not touching the story for almost six years. In the Spring of 2017, I pulled out the tattered manuscript, rewrote and edited till blue in the face, then endured daily heart palpitations, waiting for submission responses from agents and publishers.
Nine months after my first submission, and after agonizing through a boatload of rejections, Oceanview Publishing—to my good luck—offered a contract. I would be a published author.
Diver's Paradise launched on April 7, 2020 in Hard Cover and eBook, followed later in paperback. Paradise Cove launched on April 5, 2022, also in Hard Cover and eBook and will be available in paperback April of 2023.
I enjoy being outdoors when the weather is nice. I don't particularly like snow and cold weather, which can be problematic dwelling in the frigid, midwestern state of Wisconsin.
Exercise is a passion of mine, although I don't do it as intensely as in past years. Running, biking, and swimming are my favorites. As of several years ago, golf and I decided that we can no longer be friends.
Through high school and college, I played violin in the orchestras and community ensembles. Much to the chagrin of those close to me, around the age of sixteen I was struck with an uncontrollable desire to play the 5-string banjo. And play I did.
Hours and hours a day.
Everyday.
In 1992, the band I played with at the time, traveled to the Ukraine and performed in the International Kiev Music Festival. I've also performed on radio, TV, and recorded on several albums.

I'm 61 years old and live in Madison, WI. Originally from Rockford, IL, I went to college at Arkansas State University in Jonesboro, AR., graduating with a degree in Computer Science. I'm married and have one daughter and one stepson, both grown.
Professionally, I have roughly 30 years' experience in the technology industry and currently manage a group of software developers for a local, mid-sized company. In the past, I've owned several small businesses, worked as an aerial photographer, a semi-professional banjo player, a flight instructor, and a real estate investor.

Future Plans: Continue the Roscoe Conklin series, hopefully, for a long time.